Wire Belt

As our business has grown, we have diversified to supply into many different industries which requires us to constantly find new and effective methods to meet demanding customer requirements.
We are proud of our reputation for high standards of manufacture, reliability and customer service.
Our conveyor belt styles: balanced spiral belts,honeycomb belts,flat flex conveyor belts. Application: mainly use in the industries of food,glass,heat treatment,scissor Lift Curtains . Finish is vailable in galvanised mild steel, stainless steel.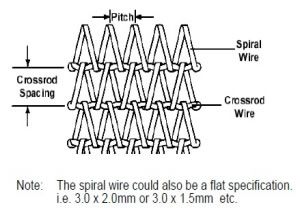 Spiral Wire Conveyor Belt specifications
Spiral Wire Conveyor belt consist of four numbers:
1)The spiral pitches in mm
2)The crossrod spacing in mm
3)The diameter of the spiral wire in mm
4)The diameter of the crossrod wire in mm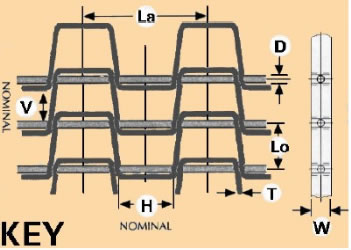 Honeycomb Conveyor Belt Specifications
If customer wanna order our honeycomb conveyor belt, must provide besides drawing details like V,H,La,D,Lo,T,W, also the sprocket key.
Flat Flex Conveyor Belts Specifications