Wire Ties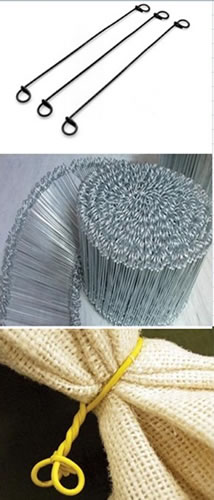 We manufacture and supply quality double loop wire ties, size from 7.6cm to 10.1cm, 1.0mm-2.7mm wire diameter. We will also custom-produce loops and lengths to your specifications.
Feature:
Made from dead soft annealed wire, easy to twist, but hard to break with variety of corrosion resistant finish.
Applications:
Construction, pre-stressed concrete, bagging, bundling, carpet, paper, packaging, gabion boxes.
Finish:
Black annealed, pvc coated, galvanized annealed zinc coated, coopered.
Packaging
Rolls of 5,000 apply to lighter gauge ties up to at least 12". Rolls of 1,000 to 2,500 apply to heavier gauge ties and longer lengths.