Chicken Wire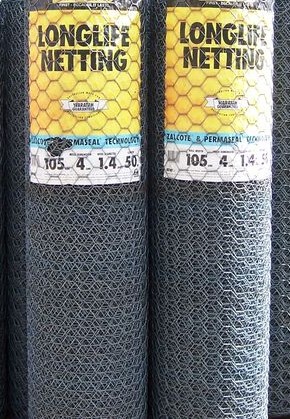 Our comprehensive range of chicken wire provides a cost effective solution for a wide variety of applications, from pheasant pens to poultry runs and garden use. Available in various heights, mesh sizes and thicknesses to suit all budgets. Chicken wire is galvanised and plastic coat for maximum life and is suitable for both temporary and permanent fencing requirements.
Features
Available in 10m, 25m, 45m and 50m rolls
Five different mesh sizes
Wide variety of applications
Applications
Pheasant pens
Chicken/poultry
Plant/fruit/garden protection
Finish
Galvanized, plastic coat, stainless steel.
Technical Specifications
STANDARD FEATURES
OPTIONS
Height (mm)
Mesh (mm)
Wire Dia. (gauge)
Length (m)
40m
50m
600
13
22
25
 
 
600
25
20
25
 
 
600
31
19
25
 
 
600
50
19
25
 
 
900
13
22
25
 
 
900
19
19
25
 
 
900
25
20
25
 
 
900
31
19
25
 
 
900
50
19
25
 
 
1200
19
20
25
 
 
1200
25
20
25
 
 
1200
50
19
25
 
 
1800
25
19
25
 
 
1800
50
19
25
 
 
2000
50
19
25