Sheep Fence
Our sheep fence made from hinge joint woven wire ,benefiting from the renowned quality of Hi-Tensile Plus wire, it has been specially developed as a safe, secure fence for sheep and lambs. Even the smallest lambs are protected, and the perfect15cm, 22cm,30cm spacing between vertical wires greatly reduces the risk of ewes becoming caught in the fence – a particular problem with horned breeds.
Features
Available in Hi-Tensile Plus or mild steel
Available in 60cm,80cm,90cm,100cm height and 50m,100meter length roll.
Applications
Sheep, lambs,cattle,pigs,goat and boundary fence.
Finish
Hot dip galvanized, heavy galvanized, aluminum+zinc galvanized.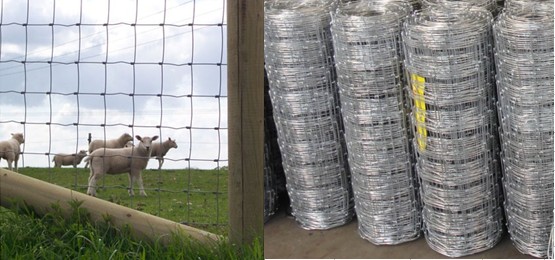 Technical Informations:
STANDARD FEATURES

Net style

No. Line Wires

Top & Bottom Line

Intermediate Line

Distance between

Roll Height(cm)

Roll Length(m)

Wire Dia (mm)

Wire Dia(mm)

Stay Wires (cm)

6/60/30

6

3

2.5

30

60

50

7/60/15

7

2.5

2.0

15

60

50

6/80/15

6

3

2.5

15

80

50

8/80/15

8

2.5

2.0

15

80

50

8/80/15

8

3

2.5

15

80

50

7/90/30

7

3

2.5

30

90

50

7/90/15

7

2.5

2.0

15

90

50

8/100/15

8

2.5

2.0

15

100

50

8/100/15

8

3

2.5

15

100

50